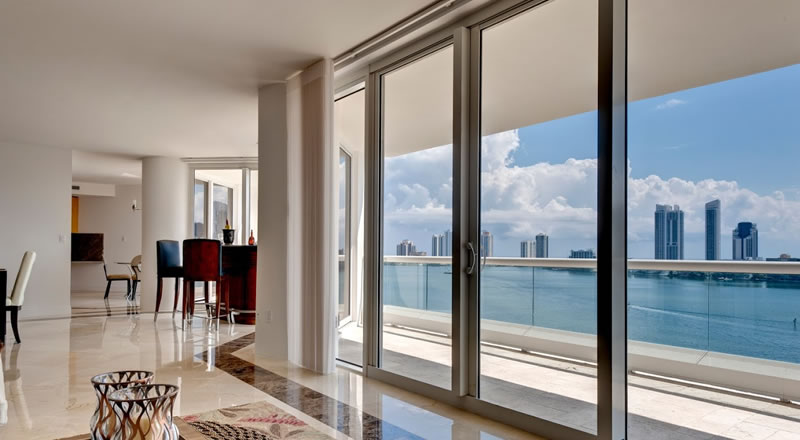 Impact Resistant Door Installations
Impact resistant french doors & patio doors
Your outside facing doors on your property are large openings in your home or building and very susceptible to damage from flying objects during a hurricane or severe tropical storm.  Replacing your older patio doors or other exterior doors with more modern impact resistant doors will increase your buildings protection from severe weather and also from intruders or thieves trying to break into your home.
Omega Doors And Windows Inc. Specializes in the supply and installation of impact resistant doors including patio doors, sliding doors, french patio doors, and entry doors, throughout Miami-Dade and Broward Counties in Florida. With our manufacturer direct relationships you get the best pricing and a top-notch installation backed by our 10 year workmanship warranty.
Impact Resistant Doors We Sell & Install:
Impact resistant patio doors by Lawson Industries (9200 HG sliding glass doors)
Impact resistant french doors by Lawson Industries (2200 LaPort)
Impact resistant sliding glass doors by PGT (Winguard®)
Impact resistant doors will protect your home in 3 ways.
#1.  They prevent glass breakage from flying objects and door frame damage during intense tropical storms and hurricanes.  When your structures building envelope fails (like a large glass door) during a hurricane it will immediately compromise the structure.  As the intense wind and water enters your home, even more expensive and devastating damage can occur.  Impact resistant glass patio doors and sliding doors are designed and tested and come with an NOA (Notice Of Acceptance) from the Miami-Dade County Product Control Section of Government.  The impact doors we sell and install all meet these stringent requirements.
#2.  They provide upgrades security against invaders, or thieves.  Impact resistant doors are designed to handle an impact, whether that's a tree branch hitting your home at 140 mph or a criminal swinging a baseball bat or a hammer at your glass door, they can take that abuse without allowing entry.  It would take specialized tools and knowledge for someone with nefarious purpose to break through an impact resistant door.
#3.  They can improve your structures energy efficiency.  With impact resistant glass doors you don't have to sacrifice energy efficiency, in most cases, you can improve it.  Impact resistant doors protect you and your family from UV rays, they can protect your furniture or merchandise from becoming bleached by the sun, they come in a variety of tints to tone down glare, and they are argon gas filled to provide better insulation.  They improve efficiency all around and that's why they are an accepted home renovation project with many financing companies.
Why Choose Omega Doors And Windows Inc.?
When you choose to hire Omega Doors And Windows Inc. you're partnering with a small team of dedicated and experienced craftsman.  We've been installing window and door systems since 1999 and we have installed thousands of impact resistant doors throughout Florida.
We offer the best pricing thanks to our direct relationship with the top manufacturers.  We are able to offer the highest quality installations using only high quality components as recommended by the specific door manufacturer.  Because of our attention to detail when installing impact resistant windows we're able to stand behind our work with a 10 year workmanship warranty on our installation work.
Whether you need impact resistant windows installed to help secure your home and protect your family or you'd like them installed for your commercial storefront the team at Omega Doors And Windows Inc. will be able to provide you with an impact window solution that will look great and offer the protection you need to feel secure.
If you'd like to schedule a FREE, no obligation, no risk consultation to have impact resistant patio doors or sliding glass doors installed in your home or business just give us a call 954-416-3020 or fill out our online contact form and we'll get right back to you.